| | |
| --- | --- |
| | |
| "Through the main gate" | Father and child check out "Pole Position" and its transparent cabinet panels. |
---
"Part arcade, part quiz, part history lesson, Videotopia features virtually every important game in the history of the medium..."
- Alan Sepinwall, The Star-Ledger, June 25, 1997.
---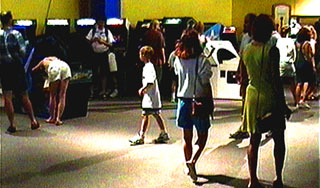 a crowd by the Atari vector and laser disc sections
---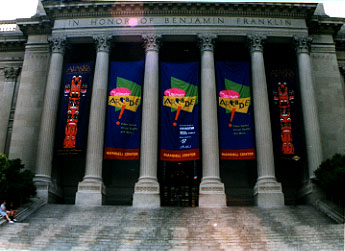 The "VIDEOTOPIA: Ultimate Arcade" banners looked cool
on the giant entrance to the Franklin Institute in Philadelphia.
---
"...probably the world's most comprehensive private collection of vintage arcade machines. [The] collection forms the beeping, flashing, throbbing heart of 'Videotopia,' an exhibition... assembled to document the history and societal contribution of video games such as Space Invaders, Pac-Man, Centipede and Asteroids."
- Don Steinberg, Inquirer Magazine, June 22, 1997. The Philadelphia Inquirer
---

"Tempest" packs 'em in. Notice Atari's '81 Xmas card displayed on the "info-pedestal".
---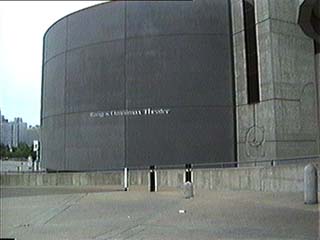 Outside the Carnegie Science Center in Pittsburgh
the site of VIDEOTOPIA's maiden showing.

---
VIDEOTOPIA and Electronics Conservancy are registered trademarks of The Electronics Conservancy, Inc. All rights reserved. All photos (c)1997, 1998 Electronics Conservancy. All videogames, characters, brand names, and trademarks are the properties of their respective owners.