| | |
| --- | --- |
| | |
| Eugene Jarvis, creator of "Defender", "Robotron", etc., visits VIDEOTOPIA. (Note the cool VIDEOTOPIA hat!) | Advisory Panel member Jarvis greets a fan from the other side of the continent. |
---
| | |
| --- | --- |
| | |
| Eugene & "Cruisin' World" programmer Scott Posch jam on "Defender" & "Stargate". | Eugene just before he hit the game because "it cheated" |
---
"Videotopia was incredible, man. I was there for... what was it, 7 hours? I feel like I could be there another 2 or 3 hours and still not have seen it all."
- Eugene Jarvis
---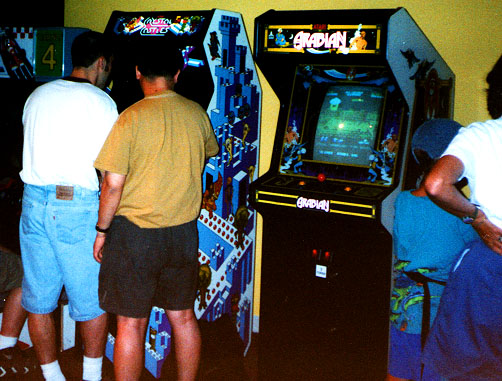 With so many games on display, it's nice to relax to "Crystal Castles" sometimes.
---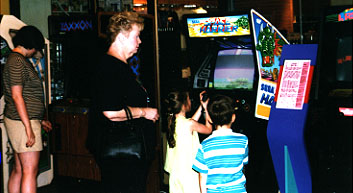 See the evolution of 3-D games in the 3-D Games area.
---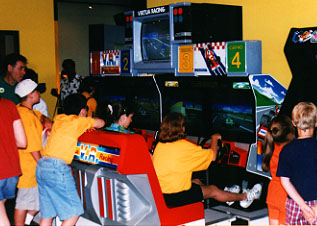 4 players take to the roads in the landmark "Virtua Racing".
The rare "Live" monitor displays different views of the ongoing race for spectators.

---
VIDEOTOPIA and Electronics Conservancy are registered trademarks of The Electronics Conservancy, Inc. All rights reserved. All photos (c)1997, 1998 Electronics Conservancy. All videogames, characters, brand names, and trademarks are the properties of their respective owners.