| | |
| --- | --- |
| | |
| Still Pac-fans after all these years | Firefox proved to be a very popular laser disc game. |
---
"First, you must know that I am no fan of video games. I was born too late to ride the craze, have no manual dexterity whatsoever and am violently opposed to shoot-em-ups of any kind. So what was I thinking coming to 'Videotopia: The Ultimate Arcade,' the Franklin Institute's interactive celebration of the 25th anniversary of video games? I think I've come to trust the great science museum to make a believer out of me, even when my skepticism reaches an unbelievable threshold of resistance.
So I just let myself go. Watching distinguished-looking greybeards whooshing down the imaginary slopes of "Alpine Racer," a $20,000 state-of-the-art video trip, really made me want to give it a go myself. So I climbed aboard the black pads, grabbed onto the [ski poles] and let 'er rip.... Truth be known, despite my pathetic score, it was an exhilarating ride and more pure physical fun than I'd had in years."... (continued below)
---
| | |
| --- | --- |
| | |
| It's nearly as much fun to watch people play Alpine Racer as it is to play the game itself. | Looking back into "Level One" |
---
"Today, in fact, video games are finally recognized as important precursors of the computer revolution and have been instrumental in the dramatic development of computer graphics and animation. 'Play,' as [Videotopia's creator] correctly observes, 'is the original form of learning. If you read and make the effort, you can really go far. If you don't, you have to pay.' Although he was referring to the "Power-Up Stations," where gamers can demonstrate their knowledge and dexterity and earn free tokens with correct responses, he could have been talking metaphorically about education in general."... (continued below)
---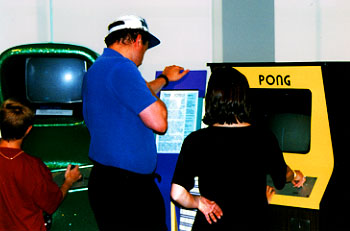 A visit with the Adam and Eve of video arcade games.
---
"The technology is too esoteric to mere mortals like me. But [Videotopia's] technical wizards bring it all to life, breaking down the exhibit into manageable bites... It's all pretty exciting stuff. [Videotopia's creator] says, 'This technology has pushed the culture; it's almost an art form in itself; but it doesn't get the respect or respectability it deserves.' The interactive exhibit, 'Videotopia: The Ultimate Arcade'... goes a long way toward generating that respect."
- Frank D. Quattrone, Editor, TICKET Magazine, July 16/17, 1997. Montgomery Newspapers
---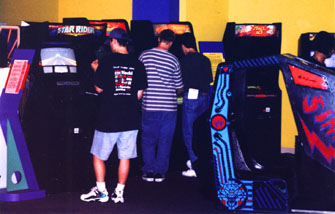 Some of the games in the "Laser Age" area.

---
VIDEOTOPIA and Electronics Conservancy are registered trademarks of The Electronics Conservancy, Inc. All rights reserved. All photos (c)1997, 1998 Electronics Conservancy. All videogames, characters, brand names, and trademarks are the properties of their respective owners.